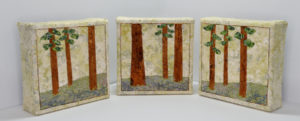 The last few weeks I've been finishing up details for an exhibit that opens up June 4, 2021 (see below). I'm making the final selection, labeling, creating an inventory, and taking care of hanging details (frames and hanging rods). I've been working on this exhibit for 2 years. That's usually how long it takes from notification until hanging. When you're looking forward, 2 years seems like a long time. When you're looking back it seems like seconds.
I've had high and low points during this journey. Always questioning and seeking the energy to keep the procrastination away. There were things that I made which I think were failures. But, nothing really is a failure is it? It may feel that way, but it's not. It's all part of the learning process.
As I look at the artwork that will hang in this show, I think back to 10 years ago. In 2011, I submitted a thread painted portrait of my dog to the Quilting Arts Magazine calendar competition. "The Perfect Storm" was selected to be "Mr. September" for their 2012 calendar. This was the first time my art had been recognized by someone outside of family and friends. I felt I was on to something; my artistic voice was starting to appear.
Over the last 10 years, there have been many changes. I have matured physically, mentally, spiritually, and artistically. The "failures" along the way where opportunities to learn and grow. If I didn't have the failures, I wouldn't be the person I am today. I also don't think my art would be where it is.
My driving mantra … especially when I was ready to throw in the towel … is "never give up!" When what you do is a passion, you can't give up, because passion is part of your soul.  And, how do you give up on your soul?
As I reflect on my journey, I'm thinking of you. Do you have a passion? Are you pursuing your dreams? What's holding you back?
---
Cloth & Clay
June 4-25, 2021
Artist reception:
June 4th – 6-8pm
Campbell House Galleries, Southern Pines, NC